NEW RELEASE!
Signy Claimed: A Wolf Shifter Fated Mates Reverse Harem Romance
How far will my wolf shifter fated mates go to claim me? They'll burn down the world and take down anyone who stands in their way. Including me.
Garrett the grumpy leader whose glacial eyes pierce my soul.
Dolph the comforting beta whose musky masculine scent makes me shiver.
Colin the brute enforcer whose snark is as good as his bite.
They realize I'm their fated mate and want me as their Queen of the New York Wolves Pack.
Before I recover my memory, I'm snatched from The Fortress. Now, their enemy holds me, and they will do anything to get me back. But what do I want, or does it matter?
5-star Reader Review:
"A captivating action-packed steamy story as everyone race against time to save her. What happens when she regains her memory? Will she remember the guys? Will she decide to stay with them or go home to her family? I can't wait for the conclusion in book 3!" Debbie B. Amazon Review
Click here for more!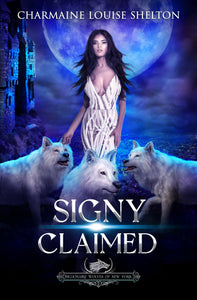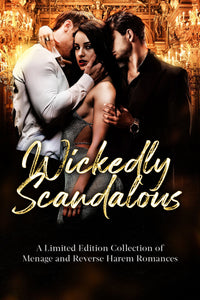 NEW RELEASE! Wickedly Scandalous: A Limited Edition Collection of Menage and Reverse Harem Romance
Spark My Desires Milly's Men: A Billionaire Reverse Harem Romance (STEELE World)

Click here to find out more about this spicy Sexy Fantasy!
*****
"I'd love to go to Fantasy Island myself.Milly has a desire for a reverse harem outing as her birthday present and boy was it steamy!! I totally loved it.I'd take Roderick, Tate and Cillian any day!!" GVLADY, Amazon Review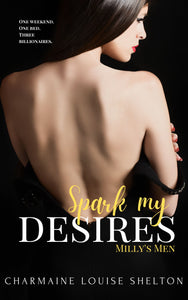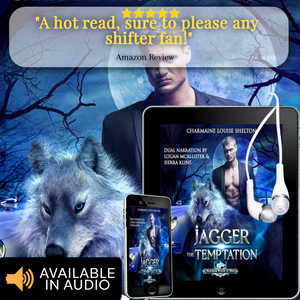 NEW AudiOOHbook RELEASE! Jagger The Temptation: A Wolf Shifter Fated Mates Paranormal Romance
Now you can delve into their sizzling, soul mate billionaire romance with a full audio performance by ***** Star, Award-winning Narrators Logan McAllister and Sierra Kline.
Come along for their sizzling, fated mates second chance romance as Jagger and Sage's fight for their forbidden love in their Sexy Fantasy.  
So buckle up... Click here to plug in and tune the world out.
Who couldn't use a steamy distraction?
***** Star Goodreads Reader Review:
"If you love a great shifter romance that has plenty of steam, drama & tension then I highly recommend this book as you won't be disappointed."
Subscribe to My Newsletter
Latest news, promotions, and book launches. Directly to your inbox.
Your gifts: CLBooks Free Prequel & 10% off your CLIntimates order!
Fulfill My Desires Sebastian & Lola Part I STEELE International, Inc. A Billionaires Romance Series Book 1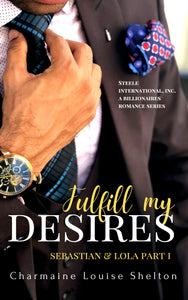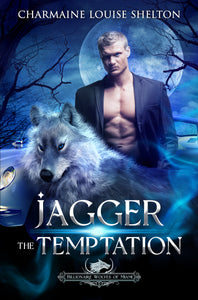 Jagger The Temptation: A Wolf Shifter Fated Mates Paranormal Romance
Billionaire Wolves Series Book One
Click here to find out more about this spicy, forbidden fated mates billionaire romance Sexy Fantasy!
5-Star Review
"A heated story of forbidden fated mates, instead of Romeo and Juliet there's a brawny alpha and a clever witch."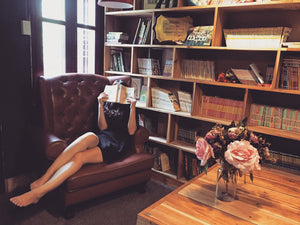 Who are the CLBooks Reader & CLIntimates Wearer?
CharmaineLouise Intimates — Sexy Under Things & Loungewear
CLIntimates Wearers are those who do and those who want to embrace and delight in their sensuality and are not afraid of expressing their desires.
The lingerie and loungewear offer them opportunities to indulge in their senses. The sumptuous and decadent feel of cashmere and silk heightens their sense of touch. The intricate, high-quality craftsmanship of hand crochet appeals to their discerning sense of style. The unique versatility of the lingerie, capelets, kimonos, sweaterlettes, and tunics appeases their  sense of purpose.
CLIntimates is for all who want to tickle their fancy!
Take the Four types of sexy. Which are you? Quiz to meet your inner siren, sylph, or both!
CharmaineLouise Books — Sexy Fantasies
CLBooks Readers are those who enjoy contemporary romance series with sizzling storylines featuring your soon-to-be favorite Powerful Billionaires and the Independent Women they lust after and love that ultimately have happily-ever-after endings.
Favorite themes include second chances, insta-love, enemies-to-lovers, and more. Each book will immerse readers in the world of the characters to experience the goings on as though the reader were right there in the scene — the consummate stimulation of their senses.
CLBooks is for all who want to indulge in their most decadent fantasies!
Take the Four types of lovers. Which are you? Quiz to match your Sexy Fantasy: sub, Voyeur, Dominatrix, or Dominatrix sub Switch.