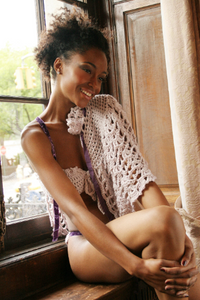 Sensuous Siren and Sylph Swan Type Part I – Ginger the Bombshell
Are You Ready For Your Close-up?
Last we chatted, you had an assignment: complete the Four types of sexy. Which are you? Quiz to match perfectly your kind of sexy. If you haven't, yet… It only takes a moment. Your results will excite you! (I'm Lena with a touch of Ginger.)
Sensuous Siren and Sylph Swan Type Part I – Ginger the Bombshell
Who's Ginger and what do we have in common?
Everyone's favorite Bombshell is inspired by The Movie-Star who was stranded on Gilligan's Island. This beauty never let the humidity of the tropics frizz her red hair or melt her camera-ready makeup—sultry cat eye's of course. Instead, she sashayed around the beach in a brightly patterned bandeau bikini and a matching sarong wrapped around her curvy hips. The evenings were all about glamour and seduction in her form-fitting glittery gowns and leg lengthening stilettos. Babelicious! 
So, as the Quiz proves, somewhere in you lies a sex kitten (rrrrwww) who loves to tempt those who swarm around her like bees to a honeypot. Is it the greedy stares, the wolfish whistles, or the blatant pinch on your plump derriere that makes your pulse beat faster? Only you know your motivations and desires. No judgement, 'cause I'm right with ya, Gorgeous Girl!
CharmaineLouise's rendition of Ginger The Movie-Star Bombshell is forever immortalized as a hand-crocheted, luxurious silk and cashmere Capelet with matching Strapless Bra and String Bikini Panties. The velvet ribbon tie adds to the sensuous texture of the yarn. Vavavavoom!
Now, step into an era where women were revered as goddesses and they proudly adorned their curves with body-conscious, ultra-feminine lingerie, pencil skirts, and décolleté dresses!
Then, comment below and share your look and thoughts on our CharmaineLouise Intimates Facebook page.
Fulfill Your Desires.

xoxo
Charmaine Louise
P.S. Catch up on our 4-part series on each Sensuous Siren and Sylph Swan type here. Up next, Part II Diana the Showstopper here!
Don't miss a titillating thing! Subscribe to CharmaineLouise Intimates — The Art of Seduction blog's RSS feed using https://charmainelouise.com/blogs/charmainelouise-intimates-blog.atom.
---