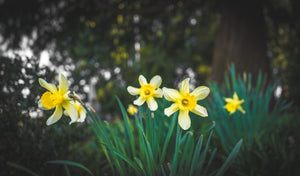 Flowers: The Daffodils of Spring Bloomed!
Spring Breezes Blowing Fluffy Afros and Silken Capelets
The daffodils remind me of my beloved Bischon Frise Josy whose birthday is April 8. Just like Josy's fluffy white afro, yellow daffodils dance in the breeze like sunshine and make you smile so brightly! What a truly delightful sight.
After a long and snowy winter (40 plus inches), even I who rejoices in the chilly weather and activities like skiing and ice skating (or just cuddling by the fireside with a cocktail and my lover), am ready for the longer, brisk days of spring. 
How I love this season—the time for renewal and fresh starts. Shake off the cold winter weather and skip ahead into spring.
 
What better time than now to enjoy the versatility of the Ginger Capelet loungewear cover-up by wearing it draped around your shoulders to keep the brisk spring breezes at bay. The silk cashmere yarn and open-weave stitch give you just the right amount of warmth and coverage while keeping you looking sexy and chic.
CharmaineLouise Intimates Tips:
Pair it with a lace-tried camisole,

cropped high-rise straight-leg

jeans, flirty ballet flats, and a top-handle bag for day wear as you jaunt around the city
Keep the capelet spicy with a little black dress, leg-enhancing strappy sandals, and a glittery clutch for a romantic night out with your lover
Click here to select yours today. Then, comment below and share your look and thoughts on our CharmaineLouise Intimates Facebook page.

We can't wait to see how you wear it!
Fulfill Your Desires.
xoxo
Charmaine Louise
Don't miss a titillating thing! Subscribe to CharmaineLouise Intimates — The Art of Seduction blog's RSS feed using https://charmainelouise.com/blogs/charmainelouise-intimates-blog.atom.
---